La montée en puissance de la campagne sur le droit à la réparation
Date: Jeudi, 25 février 2021 15:00
Tags: Right to repair
Connor Dowthwaite, Thanasis Prifits
The year 2020 saw the world forced into confinement, with not much to keep us occupied. We have had to rely more and more on technology; to keep us entertained, informed and connected with the people that we miss and love. It has shown now more than ever, how integrated and important electronic devices are in our society. However, when we purchase these products, it seems the only information provided to us is the purchase price. So, what happens when your laptop or phone breaks and you can't fix it as you now can't afford to? Or because repair shops are closed as they are not deemed to be "essential"? Would it not be better if we were given information on the durability and repairability of these products? Or if electronic devices were built in a more sustainable way so that they do not break so often?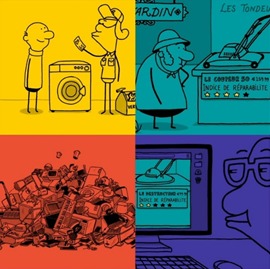 (Author: Chloé Mikolajczak, Source: https://repair.eu/news/the-year-right-to-repair-became-essential/)
A German study (3) has shown that if products were built to be more durable and sustainable, we would not only see huge financial savings for the consumers, but there would also be a significant reduction in the emission levels of greenhouse gases. Their study investigated the effect of a longer period of durability for four product groups and found it could save 3.93 million tonnes of CO2 equivalent (corresponds to the emissions of 1.85 million cars) per year - and that's just from Germany.
2019 recorded 52.6 million tons of e-waste worldwide, and by 2030 it is projected to be at 74.7 million metric tons (5). It was recorded that on average Europeans produce 16.2kg of e-waste per year, which is significantly higher than the 5.6kg in Asia and 2.5kg in Africa. With the impact of non-sustainable devices becoming so clear, there has been the emergence of the Right to Repair campaign. Right to Repair are a coalition of organizations around Europe who believe that "products should last longer, and therefore when broken, they should be repaired". To achieve this, products should be designed for repair alongside support for repairers of all kinds. Right to Repair expect policy makers to ensure good design, fair access and informed consumers.

(Author: Chloé Mikolajczak, Source: https://repair.eu/news/the-year-right-to-repair-became-essential/)
The Right to Repair campaign is growing in Europe, and on the 9th of February 2021 the European Parliament voted in favour of establishing a 'right to repair'. Some key aspects of this vote are that there will now be:
an established right to repair;

overall support regarding measures on waste prevention and repairability;

free access to repair and maintenance information;

extensions on legal guarantees;

repair and durability labelling on products; and

bans on planned obsolescence.
A change to more sustainable devices has the potential not only to achieve climate goals and save money for consumers, but also to provide job and training opportunities to those who have found themselves unemployed due to the COVID-19 pandemic. Changes such as policy makers providing consumers with information on the durability and repairability products are crucial to achieve the goals of Right to Repair. If a transition to the use of more sustainable products can be achieved, there could also be benefits on wider issues including climate change mitigation, circular economy transition, environmental justice, socio-economic inequality, and the Sustainable Development Goals.
The Right to Repair website can be found here. Get involved and be a part of the transition towards a more sustainable future!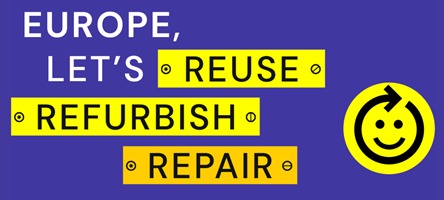 (Author: Chloé Mikolajczak, Source: https://repair.eu/)
References